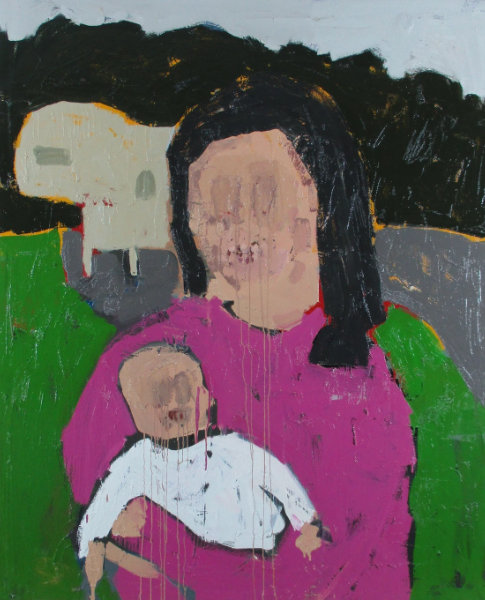 (b. 1985, Portland, OR)
Nathaniel C. Praska's skillfully layered paintings exude with unfiltered immediacy of graffiti beneath an urban bridge. His subject matter; discarded items, gasoline canisters, and abandoned places, morph into enigmatic symbols representing anxiety, absurdity, isolation, and paranoia. Praska positions these objects alongside monstrous analogies, forging a visual language that encapsulates the mounting recognition of societal despondency and the precariousness of the post-1980s socio-economic paradigm in the United States.
His work has been included in numerous solo and group exhibitions, including, Rose Center for the Arts Forsberg Gallery at Lower Columbia College in Longview, Washington, Cerritos College Art Gallery in Norwalk, California, Mount Hood Community College in Gresham, Oregon [forthcoming, 2024] and The Arts Center in Corvallis, Oregon [forthcoming, 2024].  Praska has received grants and residencies from the GLEAN Artist Residency Program (2023), Oregon Arts Commission (2023), Regional Arts and Culture Council (2022), Rockland Woods (2021) and The Calligram Foundation (2012) and has exhibited his work throughout the United States. Praska lives and works in Portland, Oregon with his wife and their son.
Artist's website: nathanielcpraska.com